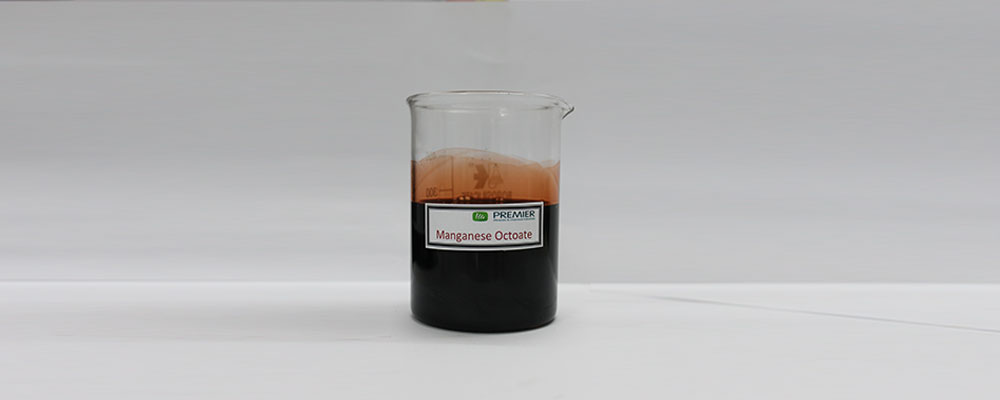 Manganese Octoate Description
Manganese Octoate is the second most important primary drier. It can be used as a Cobalt replacement in darker coloured paints where discoloration due to the dark brown Manganese colour is not important. High humidity may however lower the effectivity of Manganese as well. Manganese is also used in combination with Cobalt in the offset printing ink applications.
PRODUCT/ GRADE
METAL CONTENT % M/M
APPEARANCE
COLOUR
SOLID CONTENT % M/M
SPECIFIC GRAVITY (AT 30°C)
VISCOSITY (AT 30°C) SEC.
APPLICATION INFORMATION
Manganese octoate
6 %
white Spirits
5.7-6.3
Clear liquid
Brown
35-50
0.85-1.0
25 Max
Paint Drier
Manganese octoate
8 %
white Spirits
7.7- 8.3
Clear liquid
Brown
42-50
0.90– 0.98
50 Max
Paint Drier
Manganese octoate
10 %
white Spirits
9.7- 10.3
Clear liquid
Brown
70-80
0.97 -1.05
100 Max
Paint Drier
Packing Details
As per customer requirement.
Storage
Protect from the effects of weathering and store at temperatures below 50 °C. Once opened, containers should be resealed immediately after each use.
Safety
Please refer to our Material safety data sheet for information.